SMCI complements Milestone's ability to accelerate Digital and IT Transformation for its clients by allowing them to tap into a broader, scalable talent pool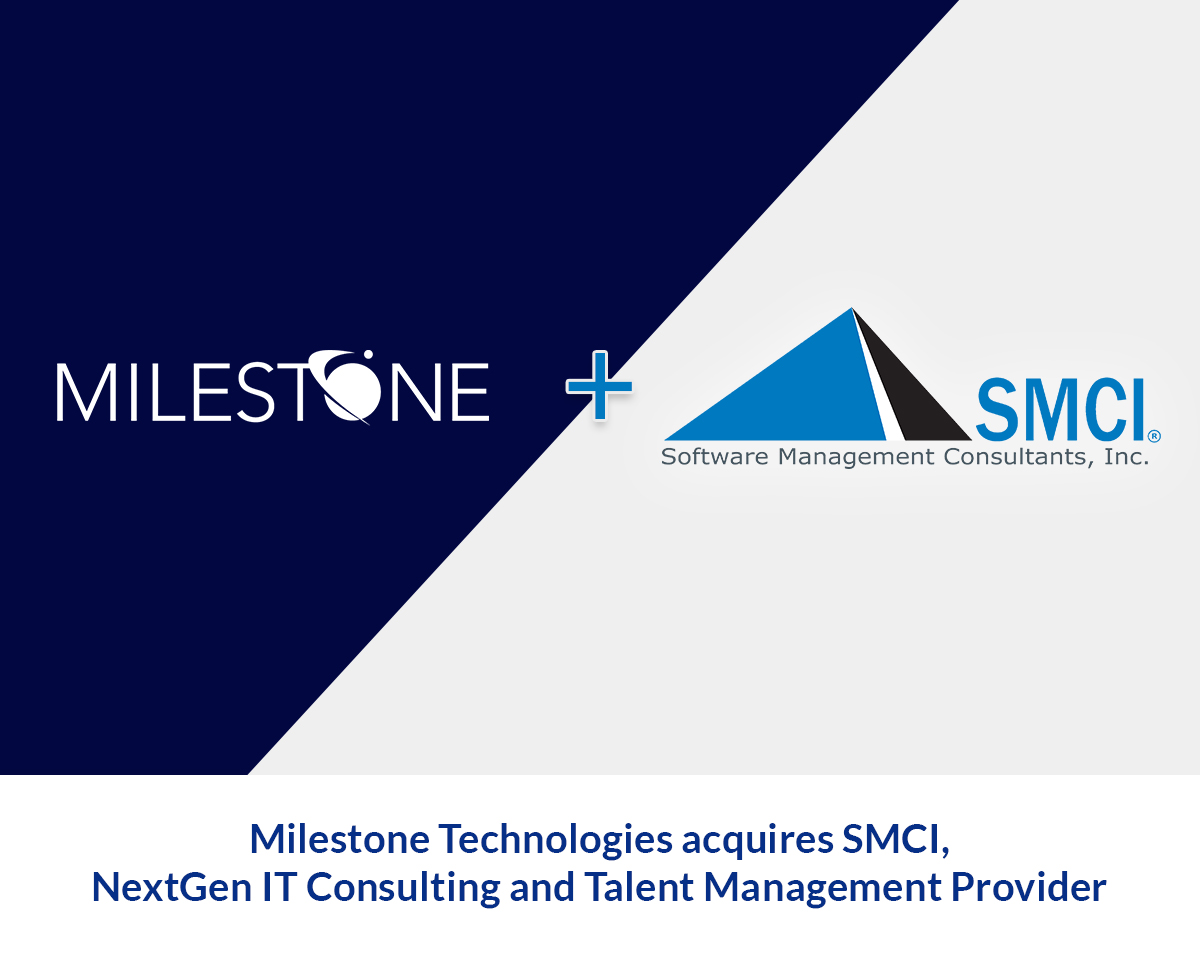 Fremont, CA – July 13, 2021 Milestone Technologies, a Silicon Valley based global IT managed services firm, announced today the acquisition of Software Management Consultants, Inc., (SMCI), a NextGen IT Consulting, Talent Management and Digital Solutions Provider based in Glendale, CA, USA. The acquisition extends Milestone's footprint to the US Southwest and Southeast regions and bolsters their IT Managed Services portfolio.
With over 35 years of working with clients and helping them deliver IT Solutions, SMCI has built deep expertise in delivering IT and Digital Transformation with a set of unique services and solutions like running large scale PMO initiatives and Talent Management Solutions across many industries.
"I am thrilled to welcome the SMCI team, their customers, and partners to the Milestone family. We are very excited about the capabilities SMCI adds to our services portfolio. Our teams will collaborate to drive significant value for our clients" said Sameer Kishore, President and CEO. "SMCI and Milestone share similar values and beliefs with a strong focus on an employee-first culture and providing best-in-class services to clients."
"We are excited to be joining the Milestone family and I am looking forward to our collective success" said Robert Maltzman, COO of SMCI. "Given Milestone's service portfolio and global presence, we now have the ability to expand our offerings to help our clients with their global IT needs. Becoming a part of Milestone also provides our employees with greater opportunities for career growth and development."
About Milestone Technologies
Milestone Technologies is a global managed services provider based in Silicon Valley and has been providing diverse IT Managed Services since 1997, helping hundreds of leading corporations deliver technology around the globe. The company employs 2,600+ industry professionals, serves over 200 clients, and operates in 36 different countries. For more information, please visit www.milestone.tech and follow Milestone Technologies on LinkedIn
About SMCI
SMCI is a NextGen IT Consulting, Talent Management and Digital Solutions Provider based in Glendale, CA and has been providing staffing and solutions services for a broad range of IT disciplines and platforms across industries since 1983. SMCI's core business values, which include integrity, professionalism, and collaboration are at the center of everything they do. The company has been focused on building long term relationships with clients to support their success over the years. For more information, please visit www.smci.com
Milestone Technologies Acquires Software Management Consultants, Inc., (SMCI) a NextGen IT Consulting, Talent Management and Digital Solutions Provider